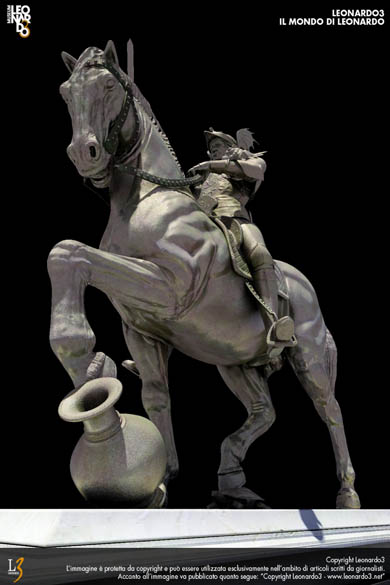 Much has been said about Leonardo da Vinci, even more has been fantasized (there's even those who attributes to him the authorship of the Holy Shroud) and yet so much remains to be discovered, as evidenced by the temporary exhibition Leonardo3 – The World of Leonardo, held in Milan in the central and elegants Sale del Re. Red carpet, doorman at the entrance, elevator access: the high level of the location is gathered from the start, a great choice for the most important interactive and multidisciplinary exhibition dedicated to Leonardo artist and inventor and his incredible machines.
Conceived and organized by the study center Leonardo3 (L3) in Milan, the exhibition expands as already shown in Vigevano in 2009 with Il Laboratorio di Leonardo, with many new features: the reconstruction of the models of Mechanical Submarine, Time Machine, Mechanic Dragonfly, Flying Machine and Magic Cube, all world premieres and with a multimedia interactive station each; world premiere are also the multimedia stations of Leonardo in Milan and the equestrian monument to Francesco Sforza, the virtual Codex Atlanticus in a complete edition of all his papers before restoration, and finally the digital restoration of the Last Supper with its interactive stations (for the first time on display in Italy).
The exhibition presents the result of Mario Taddei's and Edoardo Zanon's researches over the last ten years, focusing on Leonardo engineer as well as an artist, making understand the writings, projects and studies for machines, methodologies, not to mention many of his artistic drawings and two of his most important creations. Adults, kids, children, students, tourists and anyone who loves da Vinci will find ways and subjects never seen before: there are over 200 interactive machines in 3D, in addition to the 'real' models, many of them unpublished and never rebuilt after Leonardo, designed to comply with the original plans retrieved from Manuscript B, the Codex on the Flight and the Codex Atlanticus.
Distinguishing mark of shows are interactive experiences for the public: the stations offer information, 3D models, interviews, games to discover the structure and operation of the machines. An exhibition to look at with different eyes, with which to interact, which requires active participation as well as the willingness to understand and explore putting aside any mental laziness.
It's a great opportunity to discover a new Leonardo, more accessible, a brilliant genius even in failures.
Leonardo3 – Il Mondo di Leonardo (The World of Leonardo)
Le Sale del Re, Milan, until July 31st, 2013
Every day from 10 to 23
For information:
phone: 02.794181
info @ leonardo3.net
Official website: www.leonardo3.net
Facebook: www.facebook.com/leonardo3museum
www.fermoeditore.it