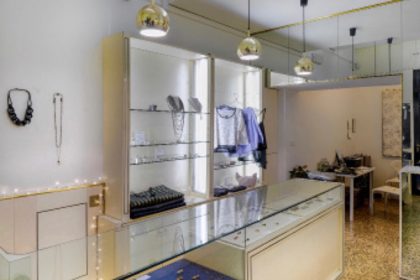 "We are like dwarfs perched on the shoulders of giants so that we can see more and farther than them, not because we have keener vision or greater height, but because we are lifted up and borne aloft on their gigantic stature," wrote Bernard of Chartres. This quote fits perfectly to Silvia Vatta, the owner of Giada, a space for those who love elegance and creativity, in the heart of Trieste and that has kept her grandmother's name who opened it nearly 50 years ago. Not even her uncle and her father, who took over the activity, wanted to sever this link with the past that today you can still see with a glance to the store furniture. The name has not been changed, as if to keep in mind the starting point, the story of a family and a place that over time has evolved and has decidedto look at – from the privileged position of the shoulders of giants – yet farther.
 The curiosity that goes along with young people and that leads them to face new challenges, drove Silvia to turn what has always been a classic style jewelry, into a contemporary jewelry and clothing tailoring gallery. The spring for this new course has been her passion, which has grown over the years, for the jewelry artist and crafts that – the threshold of thirty years – has brought it back to her hometown after long lived across the Channel. Fundamental for this professional path were indeed her studies in Visual Arts at IUAV in Venice, that gave her the right tools to learn about the world of contemporary art and the various aspects of the cultural sector.
Porcelain, silver, lichens, polycarbonate, bronze, stone, pearls, wood, glass, flowers, insects, nylon, rice, silk and resin are just some of the materials that are used by Italian and foreign designers to create handmade pieces, often unique, displayed and sold by Giada. These are artists that Silvia has experienced in the years after graduation, traveling and browsing for galleries and shops looking for inspiration, as a talent scout never satisfied and always in development. The collaboration proposals with some artists has never lacked, combined with the desire for a return to craftsmanship and uniqueness.
The artifacts of Giada are wearable art, that passes through the attention and care in the choice of materials and techniques, all different to tell of different paths, research and artistic approaches for each designer. Jewelry and clothes to look even further.
Read more www.giadatrieste.com
Giada
Contemporary Jewelry · Art & Craft Crea
Cover: The interiors of Giada, Trieste, ph. Gianamaria Fioriti