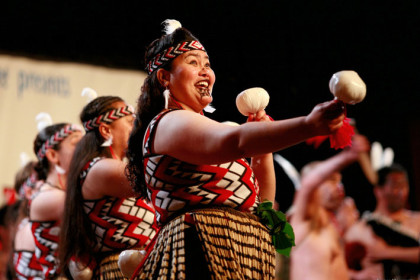 Fifty attractive events in five days have animated the New Zeland section, guest of honor at the 2012 Frankfurt Book Fair. Each day began with a breath of fresh air from Aotearoa, "the land of the long white cloud", with Te Matarae the Orehu, world champions of kapa haka, or the show of the Pacific Tatau Dance Group with the poets of the Pacific.
On the show, the best of the best creative talent in New Zealand, acclaimed writers such as CK Stead, Witi Ihimaera, Alan Duff, Joy Cowley, Lloyd Jones, Nalini Singh, Anthony McCarten, Kate de Goldi and many others. Immersed in a night setting, with a sea dominated by moon and stars, waterfalls, large evocative screens, visitors have witnessed a feast of storytelling with New Zealand celebrities such as Brown, the chef who cooked with fire, and Annabel Langbe and her "free-range" life, to then end with the Weta Workshop by the transmedia master Richard Taylor on how to go from the book to the screen and vice versa.
The "Grisly Lunch" had as guests of crime writers Paul Cleave, Alix Bosco, Chad Taylor and Paddy Richardson (moderated by Wulf Dorn). The best creative minds in the country have transformed the pavilion of 2,300 square meters in an experience of the human imagination put into practice . Like the New Zealanders, the visitor found himself surrounded by water while on the giant screens – combined with live actors – the story took place in New Zealand, primarily through the Maori myth of Rangi and Papa, the sky father and earth mother who lie locked together in a tight embrace until they were separated by his son Tane, god of forests, allowing light and space to expand.From the oral tradition of storytelling to the written word, comics to transmedia, the story of the cultural depth of this magnificent land took place under the eyes of 90,000 people, a public record.
The pavilion is a collaboration between the architects Patterson Associates (appointed in 2011 by the World Architecture News as one of the five companies in the world "designed to shape the future of architecture in the twenty-first century") and Inside Out Productions (responsible for events such as celebrations for the 150th anniversary of Louis Vuitton and the opening of the Rugby World Cup 2011 with the now famous huge inflatable rugby ball, suspended near the Eiffel Tower before moving from London's Tower Bridge, the Tower Tokyo and Sydney Opera House).