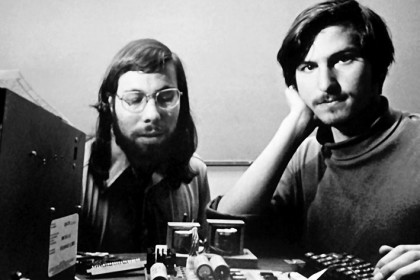 What is a minivan Volkswagen, symbol of the hippie culture, doing on the second floor of the Museum of natural sciences in Turin… ah yes, it is the "Steve Jobs 1955-2011″ exhibition; who, when he was 18 years old had one, and sold it to found Apple Computers.
It was 1976: with approximately $ 600 and 1,000 from his partner Steve Wozniak, who sold his HP 65 Calculator, the company with the current market capital of more than 400 billion dollars was born.
Jobs was the right person, born in the right place at the right time, in the late 60s in San Francisco, the heart of the burgeoning hippie culture and a new culture that wanted to spread technological literacy to all social strata.
But let's go back to the van, parked in front of the door of an open a garage built on a 1: 1 scale, the one adjacent to Jobs parent's house and which today is National Museum: the first headquarters of Apple Computers. Right there Steve and Steve began their adventure in the midst of Jobs' youthful passions, who between fifteen and twenty years old jumped from serious authors like Dylan Thomas, Herman Melville, and William Shakespeare, to the songs of Bob Dylan and the Beatles
You exit the garage, you enter in the exhibit. Among the personal history recounted from the magazine covers, interactive documentary areas, comprehensive information, on display rare pieces shine, such as the unobtainable Apple-I, "The Holy Grail of computing": produced in only 200 copies, of which 150 immediately retired to make room for the Apple II. The model on display, no. 82, was sold at an auction by Christie's at 157 Thousand Euros in November 2010. Sold as a bare and simple motherboard on which were mounted the MOS 6502 microprocessor, memory 4 KB RAM, ROM and a few other components, the Apple-I is the first computer in history designed to be hooked up to a monitor and a keyboard. Is a revolutionary change of perspective.
Other Macs are also on display, such as the Apple II, Apple III and the Lisa; ten subject areas, from the founding to the dismissal of Jobs from his own company (where he will go back in 1997), the creation of Pixar, a real revolution in the cartoons, to the technological testament of the entrepreneur.  An exhibition focused, filled with material, information and interactivity, to celebrate a man who changed the world.
Museo Regionale di Scienze Naturali, Turin – Italy, until 15th April 2012