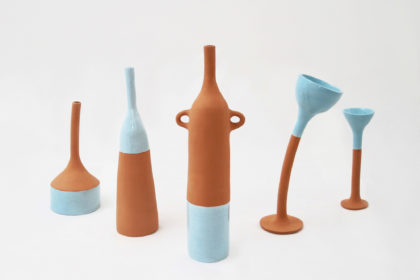 by Cinzia Munari
Meeting for the first time Elena in the waiting-room of a hospital in Milan, both with suitcase containing pieces of recycled materials. We were recruited to be part of the 100 designers for the project "Toyssimi – 100 designers + 100 children = 100 new toys". Of course, she is a designer, I am a novice maker. And it is here that I see for the first time her monsters. Beautiful!
Love for little monsters. Are they toys/objects or objects?
I have always been drawing monsters and imaginary characters. One day a friend of mine gave me lots of fabric remnants, and almost as a joke I thought I would be able to give life to those forms that until a short while ago remained on my paper. So, shortly thereafter, it was born the line of monsters NO WASTE!, funny and ironic toy/objects taking expressions of terror in front of the waste. I also have a lot of fun creating a story around every monster and especially a "magical power", for example "Faust" tonsil, which is the absolute leader of the group, it gives security, and keeping it close it acquires greater self-confidence. NO WASTE! monsters are in every way toy/object, they are created as a game, they may be used as a game, but they are also complements or again, the larger ones, pillows or pouf.
The lines of your works are very clean, smooth…
Basically yes, it is a very complex work, the first ideas that are born with a pencil and a sheet of paper undergoing, perhaps, a path of purification. I always try to minimize decorations and flourishes; that does not mean that in my projects I miss the decorative aspect, indeed, it is absolutely the contrary, what I mean is that I try to control it as much as possible. I think that unjustified excesses often distort the perception of things and confuse the reading.
Browsing your site the first thing you notice is your particular interest in the sustainability…
I actually think that today it is impossible to design any object without regarding certain aspects. There is also to say that my background is made of papier-mâché and pottery, materials which I love and with whom I realize many of my prototypes, so I was almost certain to prefer natural materials than others. I sincerely believe that the materials should communicate something, both visual and tactile and olfactory. There is nothing more beautiful than a light wood scent that makes you feel on your fingers the grain of his years.
If there's one thing I hate is waste and I think there is still much work to do to minimize them in production and maybe find alternative methods to reuse some materials.
www.elenasalmistraro.com
Cover: Elena Salmistraro, cover vase Origami, paper tetile.