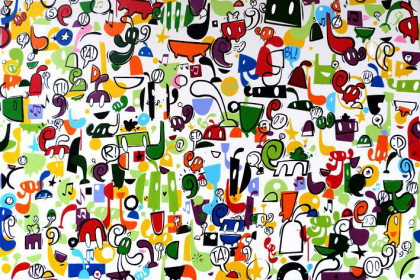 I love Willow's work, his paintings seem an animated gif in a frantic movement, so important contours give more strength to the "comic book". Yeah, they look like a cartoon! Long ago, scrolling the pictures depicting his work with a child by my side, this one invented an alien story for each canvas to the point that I thought, for a moment, to make a book… but maybe a book would not have been as good as to stop in front of this work of meticulous graphic like that one the artist gives us.
Willow, color color color
Certainly color is what characterizes my work and that catches one's eye. Through color you communicate moods and your message gets stronger. Thanks to this and to the codes of the comic, you create a background noise and certainly arouse in the observer the idea of a joyous motion, a flurry of sounds and voices.
You stop, look, and you are caught up in the plots of the canvas
In my paintings I often represent a crowd moving, making noise. It is a mix of colors and shapes, and it's more or less what happens nowadays. We never stop, you always a busy day, you are constantly bombarded with concepts, philosophies and thoughts of others, and we have less space for ourselves. The urgency to carve out our own space in order to be able to slow down and listen is even more pushing. So I think that we find a little bit of ourselves in these frenzied crowds of mine!
The unmistakable Willow comic on hats, chairs, cups…
From canvas to design or common use object, the step was short.
Today we have the opportunity to reproduce a high quality image on any type of object, without limits. And so, again with all due respect to artist's work, the company is able to make available art, covering a common object with a graphic signature.
I found very qualified people and among the best in their field who wanted to get into the game tying their product to my work. The result was very original. From Borsalino hats to Panettone Motta, the chair created with Luca Boffi, Weissestal chinaware, Rivadossi cutlery. A made in Italy managed with courage and respect from both sides.
The thrill of murals
Sometimes it happens to mistake a wall for a giant sheet of paper… it's beautiful to work on the wall as the whole work becomes something for everyone and the rendering of one of my works in XXL format is amazing!