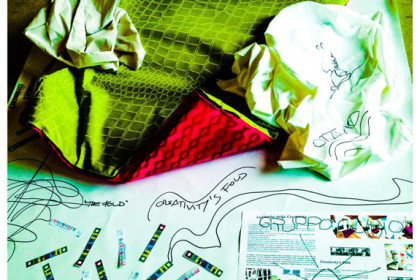 In case you need a design object to be inserted in the children room I would like to introduce to you "OTTAVIO Lo Smemorato" (OTTAVIO the forgetful), prototype on display at SHARING DESIGN, container of events in Fabbrica del Vapore organized by Milano Makers at the last Salone del Mobile.
OTTAVIO is a "rare" kind of carpet, those carpets which are on the floor, of course! But which turn in what you want, you child-adult. Would you like a crocodile? Zac! And you find a crocodile. Do you want a rabbit? Zac! It turns into a cute bunny and then today is yellow, tomorrow is blue, the next day is dotted and the day after striped.
Let's start from the beginning… invited by the winning team of international design Guerriero/Mendini of the "non-school TAM TAM" I found myself catapulted into the world of, so called, operating design and not that of which I am part by writing about or viewing other people's pieces. In few words, "Cinzia, work and invent something socially useful-not-useful". Fortunately, I am surrounded by different people, but who are in tune with the "surreal" vision of the world that surrounds them. So it took a phone call and the project took shape slowly. The developing stages always had my house as a meeting point, the strategic center halfway between Milan and Bologna, and especially where the table was always laden with products of the territory of which no trace was left at the end of the evening.
About our name, GROUP OC(h)IO. "Ocio" stands for: beware, we are here too!
Two impressions on the Group and on Ottavio by some of us.
Stefano D'Aniello, architect
"Group Oc(h)io" – we talk, we laugh, we think and we play. Then we design, manufacture and test. "Ottavio" – playful object but not too much. There you can stretch out and sleep but also wrap, turn up and play, alone and in company.
Roberto Munari, architect
"Group OC(h)IO" – mixed, good, quirky, diverse, great, out of time, literally, colorful, fun, sleepy, fast, lightweight, bespectacled, vegan, tuscany, lombardy, punctual and fluffy. "Ottavio" – foldable never rigid, colored never neutral, funny but still, grounded but not knocked down, simple but intriguing, inert… but it's just an impression.
Paolo Schianchi, professor of Total Design and Communication, Creative Director SpazioFMG and Floornature.com
"Group Oc(h)io" – the group looks to multidisciplinary contemporary age, the new borderline of author design: different backgrounds, different skills and cultural melting pot. "Ottavio" – reads the shapes to never be static. An object for thought nomadism. I can be here, but projected elsewhere. It is a game inspired by children to find ourselves creative adults.
The other components: Alessio Gropponi, leather craftsman – Alessandro Manferdini, leather craftsman – Filippo Manni and Eugenia Rami, photographers – and finally Cinzia Munari, communication, graphic design and marketing and author of Design in 400 words.