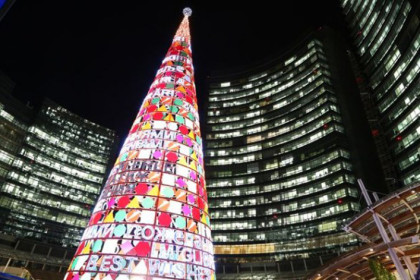 It was thanks to Johann Wolfgang Goethe that the (Christmas) tree appears for the first time in the great literature, in his famous work The sorrows of young Werther. The year was 1774. It is said, however, that the first was "spotted" in Tallinn, Estonia, a few years before. It was 1441 and it seems it was decorated with walnuts, apples, dates and paper flowers. But here we are today, in the '50s decorations were colorful balls of glass or similar material, colorful paper boa that enveloped and enriched them.
The '70s brought strips of multicolored flashing lights. You looked and saw in the gardens or in the windows of the houses that red, blue, yellow, green and white go on and off. The piece de resistance is always the topper in the form of the star, comet or not, the size was indifferent, but it sure was not to be small!
What happens with the advent of design? Already by the '80s the Christmas tree changes color, is not only green, in the shop windows are the red, blue, white, black… The houses also begin to leave the conventional rules, more care of the interior, the walls begin to have important colors, white goes out and yellow, orange, blue come. Decor is decreasing, more convivial spaces with more chairs, tables and sofas, all designed for a man who wants to live his home and no more for home passing man. Then the furnishings change, becoming minimal and well defined.
And our tree? Even for him begins a transformation if not radical almost.
The classic green needles tree is flanked (will never be replaced), by the followers of the design, from pieces of wood which, logically, sketch the triangular shape or trees to hang on the wall created with fabrics designed on which are applied "self-produced" Christmas forms a sort of DIY. But even metropolis see unconventional Christmas trees included and adapted to redevelopment of the most trendy areas. Companies, for example, set up their Christmas trees with products they produce, you see the more strange trees, I don't know… with tires, pots, bottles, I have seen even with bicycle saddles and so on and so forth.
It is undisputed that my tree is very pure design: two sheets of plywood inserted into each other surrounded by a transparent tube with inside LED lights. Merry Christmas!