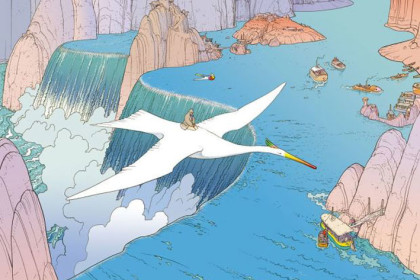 Some time ago while I discussed the artistic authorship of the Alien morphology (I mean the space monster whose exploits were inaugurated by Ridley Scott) with a guy (you know, everyone has their own way of wasting time), I noticed with some surprise that it was impossible to change his opinion, because he was a loyal follower of the Moebius cult.
I properly sustained that Alien originated from Giger's brushes, while the fundamentalist continued, against all evidence and against the group of people who had gathered around us disputants under the guise of a non-silent public had public, to insist on the paternity of Moebius. Now that Moebius has been personally questioned by production, is true. However, it is equally true that the final monster is attributable to Giger, in fact, simply look at it (the monster, not Giger) and compare it with the Swiss' paintings and sculptures, to remove any doubts.
I had to do with a Moebius fanatic. It was something that made you think. Such faith should be understood. How was such admiration formed? I didn't know there were other drawers so religiously worshipped and "blindly believed". And then you ask: did the cult follow precise rituals? Were the believer's attitudes right?
And to this I say NO.
I often imagine Moebius chuckling over the strips he just drew, full of characters you won't find in any other comic strip, dressed a bit like clowns, a bit like colonial officials, a bit like North Africans, a bit like formal red guards and a bit like a thousand other things maybe in Little Nemo style. Or the almost nonsense stories , impossible to follow, since real non-stories, with red threads to allow any short synopsis. And the many irrelevant and ephemeral characters. And the absolutely useless captions that refer to places and situations not illustrated or explained that anticipate what will not be developed, forcing the fanatic on a religious and desperate hermeneutic tour de force. And animals that look like huge roasted chickens or caricatures of dinosaurs or caricatures of caricatures.
Of course I'm talking about Moebius Moebius, not Jean Giraud's Moebius. I'm speaking of fantasy live with paper and pencil, not even valuable Blueberry with Belmondo's face ("a face to be slapped" that immediately Frenchified, much in vogue at the time on the covers of the Italian Mulazzani for Dard's Sanantonio Commissioner). I'm talking about the Airtight Garage his masterpiece, and the like, which rightly raised the cry of critical miracle and audiences worldwide. They were absolutely free works, in which Moebius proved to be an authentic, great artist and finally held the most absolute disregard to the written and unwritten rules on how-a-comic-should-be-made-a-to-become-goods-and-be-saleable. But I think many distorted the message and therefore the need mark it as "culture" and serious won over, typical of youngest in spirit. The same people who began to worship him as a guru.
How Moebius must have laughed.
Now that he's gone, we should mainly remember those little nothings about him that actually showed his creativity and clever sense of humour. In Airtight Garage, look at the first strip that comes after the fifth episode (which, mind you, does not start a sixth episode). In the first drawing, you see the profile of Major Grubert astride a Malro (what, you don't know what a Malro is? But what do they teach you in school?). A detail clearly illustrates that this Malro is male. In the third the drawing the Malro shows his rear end and, with his tail raised, here instead she appears a female. Or both or alternating according to who knows what. And as an initial caption warns, this is in Schwans' territory. What? You don't know Schwans' territory? What a shame… tsk tsk…
You have no choice but to read or reread the Moebius comics. You still won't know about the Schwans' territory or even where it is, but you'll have fun.
www.fermoeditore.it