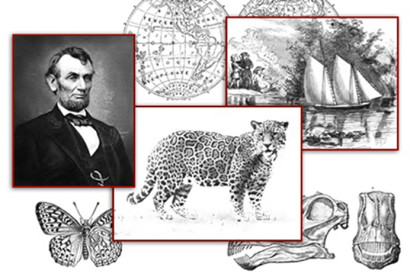 Today I want to tell you about two sites where you can find free e-books, one in English and one in Italian.
The first is called Forgotten Books, and defines itself as "the largest online library in the world, with 484.473 books available on request"; for the most part, these books are in English but there are also other languages, including Italian. The site is really well organized: allows you to download titles in various formats (tablet, kindle, pdf, online text, and in the near future with a dedicated app) and has been designed using the latest technology to provide members with the latest amenities: there's the prompter of book titles called Intelligent Bookshelf ™, the research services (by pages, by images, by words, by author…), the chance to access advanced analytics. In fact, every single word, page and image within each book on the website were analyzed, indexed and ranked: you can then ask questions such as "what is the word most commonly used in books of fiction published in 1765″ or "what is the book with the most number of pictures of cats in the first twenty pages", or more useful information.
You can download a partial free preview of books. The access to the entire library requires a small membership fee, but subscribing to the newsletter you will receive every day a surprise free downloadable title.
All Italian the website eBooks for Art, created by the Cultural Association "Windows on Art" in Carrara, active in the promotion of art history through the web and the new technologies. The idea is to make available to the public electronic books that deal with the history of art by offering quality material on the subject. The texts of eBooks for Art are of quality and with regard to images, pdf and epub avail themselves of external links that do not weigh the files. Last but not least, the site was also created to give visibility to the authors, especially young art historians who fail to publish their work in the traditional way.
The most downloaded titles? The ephemeral and illusory in the baroque by Fausto Di Stefano, Rubens in Italy (1600-1608). The portrait by Maria Simona Ferraioli, Sandro Botticelli among the museums of Europe and of the East: the temporary exhibitions of Angela Patron. The site is open to proposals for those who want to publish their thesis or their book, offering the authors a useful free window (of course after evaluation of the writings).