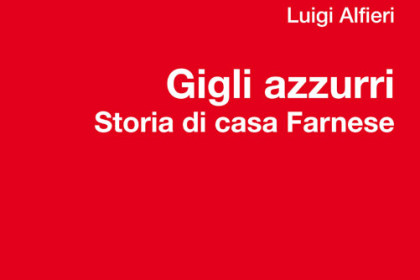 Do you love intriguing plots? Historical disclosure? Exciting as a novel, Gigli Azzurri (Blue Lilies) is your book. Published in print in 1995 and out of stock for a while, now offered by Fermoeditore in e-book (pdf, ePub and mobi), the story told by journalist and writer Luigi Alfieri will get you involved.
How was Blue Lilies born? The author explains: "Talking to people, I realized that no one connected the Farnese in Rome with those of Parma, they did not understand that it was the same family; also writing my History of Parma, I realized how little we knew of a so famous house, about which has not been published anything for a long time. So I wrote this book, published to coincide with the exhibition in Parma at the time."
Blue Lilies is precisely the story of Farnese family, in a story properly documented but by literary nuances; includes ingredients match up with a television series such as The Borgias: power, money, blood, sex practiced calculation with and width, intrigue, relentless social climbing. Blue Lilies tells in fact birth, rise and extinction of a gens that – within half a century – has gone from the lowest rank of the small rural aristocracy to the parlor of Roman nobility. The Farnese saw their leader become pope and their grandchildren sovereign of an independent state. They have given to the world Pope Paul III, five cardinals, eight dukes of Parma and Piacenza, three regents of the Netherlands, the greatest leader in history after Julius Caesar, a queen of Spain.
Patrons and men of culture, tireless builders afflicted by the "evil of the stone," they have built Palazzo Farnese in Rome, the Church of Jesus, the Farnese Gardens, and at a short distance from the capital, the beautiful villa of Caprarola. They protected artists such as Michelangelo and Titian, Vignola, Taddeo Zuccari the Bertoja, Claudio Monteverdi, Claudio Merulo from Correggio.
The opening words: "Around the lake of Bolsena, in the Middle Ages, there were immense forests of oaks. The big oaks dominated, as menacing giants, the profiles of that land scattered between Lazio, Umbria and Tuscany. One of the most equipped castles in the area took the name of Farnese. The town of oaks. It's around here that they began to sink into the ground the roots of a family destined to mark the history of the Renaissance, Counter-Reformation and the years of the Baroque, to go off with the first Rococo stirrings."
Here you can read the first chapter.
Blue Lilies for sale here (English version coming soon). Happy reading!