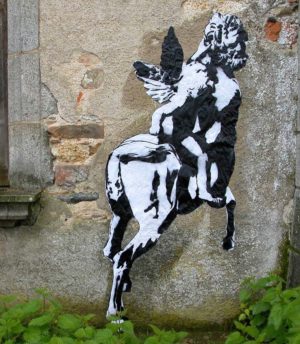 In 1971, when the streets of New York hosted the first expressions of street art, a French artist named Xavier Prou (Paris, 1952) was a guest of the American metropolis. He was so fascinated by this new art that he brought it at home, and after about ten years, at first he tainted Paris with it and then Europe, turning it into a global phenomenon.
Blek le Rat, as the artist signs, was not limited to graffiti but he experimented by introducing life size Stencil Graffiti and transforming this discipline in pictorial art, so much that he is now considered one of Urban Art. pioneers and founder.
He reworked the American style adapting it both to architecture and social context of the French capital. His subjects were pop characters, iconic works arising from the past and rats, lots of rats, symbol of freedom and ability of art to be invasive and persuasive. According to the artist the rat is "the only free animal in the city" and "it spreads the plague across the world, just like street art". Besides Rat is an anagram of Art and not coincidentally the name of the artist.
Through the invasion of the fearsome rodents, Blek Le Rat spread Art and scratching messages to the system in Paris. The provocation is, in fact, one of the stylistic icons of this artist who sees street art as a useful tool for the dissemination and conditioning of ideas.
The theme of the recent Bleck Le Rat's solo exhibit at the new Milan location for Wunderkammer Gallery is exactly the idea of propaganda. A key concept for the poetics of this artist who claims to have derived his technique also by fascist propaganda stencils that he saw when he was young in Padua. In addition, if it is true that art was used by propaganda, it is also true that propaganda was used as art technique. Some examples are the iconography of the Renaissance, as well as, more recently, Futurism, Constructivism, Pop Art and Urban Art with Blek Le Rat, in fact. He is not the only one, in fact it was closely followed by many other exponents of street art like Banksy declaring to consider the French artist as a forerunner of the technique and issues they have in common. The difference that sets them apart is the use of posters by French artist who, after being arrested in 1991 while he replied the Madonna and Child by Caravaggio, definitely opted for this solution.
Since the eighties to the present, therefore, Blek le Rat has championed the dissemination of art so that it could reach common people. At first only through the walls, then, starting from 2006, even in galleries, but always remaining consistent with its original aesthetic and defining a style that has remained constantly enough present to influence today's movements of graffiti-art and guerrilla-art.
Cover: Blek le Rat, Le Centaur, Chateau de Bagnac, 2003 © Sybille Prou