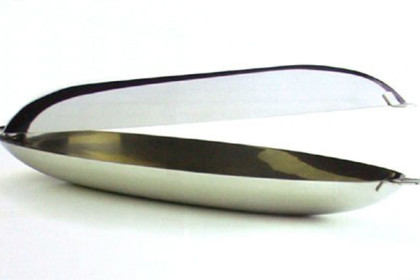 What is the relationship between a pot and Hans Arp? And among cutlery and Paul Klee?
The relation was unveiled by a small exhibition at the National Gallery of Parma by CSAC, which focuses on the space of the table seen through the work of three great masters: Roberto Sambonet, Enzo Mari and Bruno Munari. The whole in the shadow of the imposing, rococo and luxurious Trionfo da tavola made by Demià Cameny in 1803 using marble, semiprecious stones, gilded bronzes, depicting divine characters and countless other figures designed for the decoration of a room more than regal.
Much more different is the approach of the twentieth century three protagonists of the initiative, which expose objects and drawings, books and vases, to outline what was a real revolution and that since then has had its consequences in our daily lives.
Sambonet is a name forever linked to the production of cutlery: in the family company, before Roberto's new projects, were realized forks, spoons and knives in silver, for the rich bourgeoisie of Postwar. The designer, however, breaks the tradition: looks at abstract art (Hans Arp, in fact), Brancusi and architecture of Gio Ponti, simplifies forms, is oriented towards the purity of lines, shapes and creates sculptures intended to be functional to the act of "eating", with strict order and aesthetics. Here it is then how the round handle becomes flat, the cutlery are cut from a sheet of steel, are characterized by balanced handle, represent the space and they contain it. Still, Sambonet introduces plastic, he imagine stacked dishes and cups, studying fish kettles and griddles.
A different perspective is built by Enzo Mari, who also disputes the tradition in his work but introduces the idea of the active participation of those who use its objects: he invites them to produce and to assemble them by themselves, as in the case of Autoprogettazione 1974, a series of wooden house furniture where is asked to individual end users to demonstrate their own skill. Mari is dedicated to a thorough investigation of the gestures, behaviors and functions of "things" and he designs chairs, containers that pose a direct relationship to the house while keeping constant the memory of nature.
Finally, the irreverent humor of the forks by Bruno Munari: the famous and fun project, conceived in 1958, transforms mundane and everyday objects into characters with speech and inevitably thought runs to the futurist revolution that fold "good table manners", by opposing and revolutionizing, without forgetting the center of all the research of one of the fathers of the design, that of the game, of children's creativity and fun.
CSAC in Pilotta: Sambonet, Mari and Munari for the table

Galleria Nazionale di Parma
Piazzale della Pilotta, 5
43121 Parma
Until July, 13 2014
Tel:+39 233309-233617