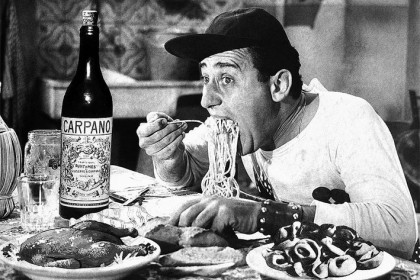 Ten years after Alberto Sordi's death, Louis Vuitton's Maison in Rome pays homage to the great Italian actor and director. From October 12th to January 10th, 2014, the store visitors in Rome will view author short films on the big screen, selected by the renowned French brand. In Spazio Etoile will be celebrated the classic Italian comedy with some of the best films of Alberto Sordi.
Surrounded by the most beautiful creations of Louis Vuitton and a bookshop dedicated to cinema and its myths, Spazio Etoile takes the name of one of the spaces most loved by Romans: the famous movie theater Etoile. Built in 1907 under the name of Lux et Umbra, renamed Etoile in the 70s, the hall was the focal point for Roman cinephiles until its closure in 1991. In January 2012, Louis Vuitton has given birth to Etoile offering the opportunity to view short films on the big screen, with a periodic schedule
The decision to project short films with Alberto Sordi as a protagonist pays tribute to one of the best actors of Italian cinema. Interpreter of over 150 films, 18 of which made as a director, Sordi succeeded – thanks to his artistic genius – to describe and make evergreen some unforgettable characters.
Here are five episodes carefully chosen to be shown to fans of the Maison. In "I Miei Cari" by Mauro Bolognini, from "My Life" of 1964, Sordi paired with Silvana Mangano plays a sick husband treated with fierce indifference by his wife and mother-in-law, while in "La Famiglia", Nanny Loy's episode of 1965 from "Made in Italy", plays the role of a cynical and swaggering fortune hunter husband. The suburbanite Hyacinth Colonna appears, dressed up, in "Cinema a luci rosse" the first episode, with Sordi as director, of the film "Il Comune Senso del Pudore", classic Italian comedy and satire of the relentless custom of 70s. And then there he is in the role of a monsignor anything but spiritual tempted by a provocative Stefania Sandrelli in the episode "L'ascensore", directed by Luigi Comencini, from "Quelle Strane Occasioni".
Completes the program one of its most successful disguises, the noble snob and idle Giovan Maria Catalan Belmonte of "First Aid", one of the funniest sketches of "I Nuovi Mostri", cult masterpiece of Italian comedy directed by Mario Monicelli.