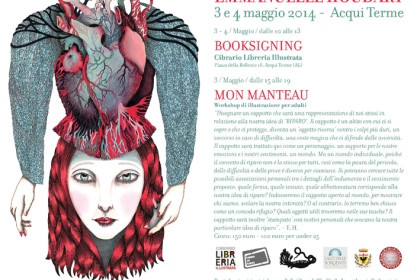 The Cultural Association Campo di Carte, in collaboration with Libreria Cibrario, is ready for the third edition of Anomali Illustration Festival. Unlike the previous editions, the festival will take place in Spring, from April 27th to May 4th. By the end of April is expected the end of the project Righe Amiche, which involved the city schools in illustration field by opening to experimentation, to news in publishing, entertainment and to introspective reflection.
The project Make a Book, aimed at secondary school, focuses on humanities, has instead dealt with text in its different facets and components for discovering different professionals that contribute to create a book, by proposing a number of meetings with some professionals: writers, editors, proofreaders, translators, illustrators, publishers, aiming at providing an orientation to potential employment after graduation. It was also proposed the elaboration of a cover from a graphic point of view.
During the Festival students' works will be exposed, who on April 29th will be able to meet some illustrators including Giulia Coppola, Paolo Zadra and Silvia Magnani, authors of the children book Whodunit, blue cat? (Fermoeditore), chosen by students for their rework. Finally, Saturday, May 3rd, Emanuelle Houdart, illustrator and painter born in Switzerland but living in Paris, will hold a workshop for professional illustrators entitled Mon Manteau, where participants will be invited to draw… a coat, with all its personal, social, psychological, philosophical implications. For not designer fans, the artist will be available in two sessions of booksigning, on May 3rd and 4th from 10 to 1 pm.
Two illustration competitions were organized in past editions: "Fantastic, impossible, improbable Animals" in 2012 and "Burning water" in 2013. Intention is, of course, to attract public's attention – even non-specialized – to the world of illustration. The organizer, Mariangela Cibrario, comments the event: "The amazing thing for me, which also raises our hopes, is that students and teachers were fascinated by the world of picture books, far from those who usually attend, and that allowed, as well as learn new techniques, especially talking about emotions and feelings in a different way. If stimulated in the right way, children respond with enthusiasm, through drawings and words".
For further information: