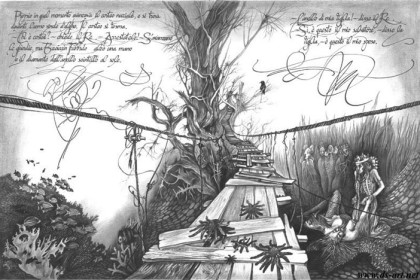 Fairy tale elements and their graphical solution in European books were investigated, from XIII to XVIII century. The ornaments on book pages, their interaction with the handwritten text, entwinements and transformations of vegetative elements into the heads and tails of fantastic beasties that suddenly come alive – and then the book stops being just an object on the table, it acquires a completely different meaning – it becomes an independent little world inside a big world that is more habitual to us.
All this has had such a big influence on me that gradually, after a long time coping and redrawing such elements into my notebook, I felt a necessity to create a great independent project. And while I attentively looked into these fabulous images, while I copied them onto the paper sheets, repeating their outlines, I tried to understand through what graphical methods they can "come alive", through what techniques it would be possible to force a ship to "sail" on the book pages.
All possible ornamental elements and components were divided into styles and systematized. And now I had to transform my acquired bundle of knowledge into a certain book project – that would be contemporary in its stylistic expression and would reflect all the depth and fullness of medieval books.
The Italian folk fairy tales in an adaptation by Italo Calvino served for inspiration to such a project. Having read many fairy tales, I started to draw illustrations one by one, without connecting the drawings to a certain text, but going by their general style formation.
Thus the large format 13 sheets appeared that were completely filled with the fairy tale characters. I tried to achieve the maximum expressivity of image in these pencil drawings by simple tools – I intentionally limited myself to a B2 pencil, to resist the temptation to use colors or other bright methods. I wanted to obtain vivacity and a picturesque quality in the image by manner of my own drawing and an interior power of the represented character, without giving this character an external mask.
However, initially the drawings were planned as illustrations for a book. And the contrary happened: not the illustrating of a text, as usually occurs, but I had to write a story to fit the already done illustrations. I am not a professional in such a trade, therefore I wrote just a general idea and a plot line of the fairy tale, then my dear teacher and friend Oleg Prihodko helped me to write a good story – with good and evil, with well described characters and all the details.
The fable is entitled «The Princess and the sea monster», a work that continued for more than three years, and now it could be considered completed. The book has not been published but has won several prizes in Italy and abroad.
Drawings by Diana Bychkova, www.ds-art.net