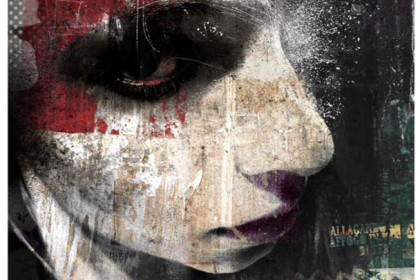 Detail oriented, decisive, innovative, resourceful and motivated. So she describes herself (and she seems to be) Francesca Corsini – aka Effe Logo – graduated at the Art Institute Paolo Toschi in Parma (1995) and at the Academy of Art and Design Cappiello in Florence (1998). We met Francesca during her "Italian holiday" for a few quick questions.
Who are you?
I was born as a graphic designer and visual artist, I try to put together graphic design and art… I like the idea of mixing everything in a discourse of advertising, using graphics as an artistic, expressive and creative medium also, so I'm a graphic designer, a creative, and a visual artist at the same time.
Where did you start and where are you now?
From a geographical point of view, I left Parma and arrived in London. Probably I was doing more graphic in Italy, but then there was a fracture in me, which took me away, at the same time there has been a break in my creativity and in my journey. I found it again in England after two year of iatus. Now I feel very inspired, creative, with a desire to do, experiment, try new things. In Parma, I started a lot of digital research, now I would like to create a compromise between the digital, painting and matter, it was an idea born in my head and now I want to pursue it, London gave me the pulses that my brain re-elaborated… it's time to get to work.
What are your sources of inspiration?
Everything that surrounds me emotions, reactions, LIFE. Then the Urban/Street Art graffiti, the visual arts and music.
 Which sector do you prefer?
I worked for an Italian drum and bass label, the Modulate Recordings, for which I have taken care of all graphics from the beginning (logo, vinyl cover, website… everything), I worked a lot for the musical environment, the clubs, etc., in Italy, then I also provided artwork for English artists and bands (logo and visuals). I would say, therefore, that the graphic design related to music is predominant in my career as a designer, and is an area that I love very much. Then there are t-shirts and pins, in which I like to express myself freely.