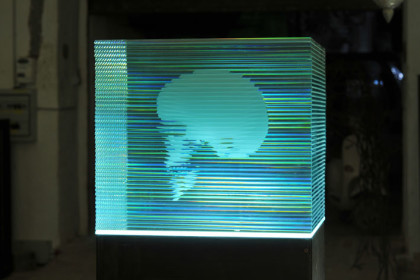 In the last years I went on holiday to Polignano a Mare in Puglia, I had just come back from China where I would talk to architects, designers, artists, curators, gallery owners, attending business events of all kinds in this pot-pourri of activities in an entourage that has thin limits between trade, fashion, art and PR still considered useful for the development of business in the field of design.
So I was used to hold the antennas always tensed at collecting ideas, new or interesting artists and designers, with the main aim to bring grist to the mill of my employer. In Polignano, my attention was immediately drawn to some chandeliers in public spaces. My eyes meet various works, recognize the same hand: we are here dealing with an artist.
Although they had told me who he was, I was never brave enough to approach him, a form of modesty has stopped me. I was not in China, I felt dirty, in spite of myself everything in my world was a merchandise, I was afraid of being arrogant. I spied Campanella workshop discreetly, through the beautiful wrought iron gate that separates it from the outside. I wrote him an email asking him if he agreed that I wrote something about him. He sent me his bibliography and his number in case I wanted to talk about it over the phone. I didn't call and I did not read anything about him, I prefer to report what suggested from the part linked to the soul, which allows the encounter between humans and art.
Despite the accolades did not lack, Peppino decided to stay in Polignano, without chasing the market that slowly tiptoed coming to him. Stay in a place that seems animated only in summer but intriguing and empty in winter, under the impetus of the wind that sculpts the features of the cliff on which it lies. Schopenhauer argued that the artist's inspiration was born from the powers in nature, reflecting on this, it is clear what affects Campanella's inspiration.
The light sculptures by Peppino Campanella carry the scent of the sea, the memories of past, present and future of the world in which they are created, they carry the light that affirms the independence of the artist by the dynamics of the market, that wants to modify everything but that still can't completely fool the more subtle aspect of the human spirit.
Now I can meet him with a light heart and at peace with my conscience.