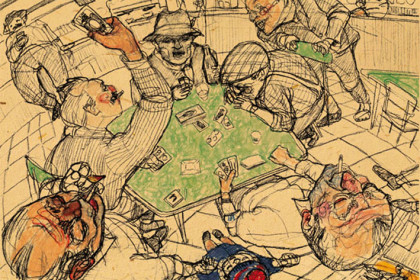 Fermoeditore work Sun and snow does not stop. Saturday, March 16th a new stage has seen the volume leading to the modern library "Don Milani" in Noceto, at the event created by the bookshop "A Testa in Su" in Piazza Repubblica with municipal administration. Moderated by Fabio Fecci and the participation of the mayor of Collecchio, Paolo Bianchi, he authors Luigi Alfieri and Enrico Robusti entertained the audience talking about their work.
This time the rhytm was marked by Michele Bianchi, reciter of some "confetti" chosen among the 142 that make up the book from time to time discussed by the authrs through memories, sensations, remarks: starting from threshing, through the magic of the first juke box, the killing of the pork, the trips to the lake Santo and the swimming in the Baganza. Coming up to the tragic end.
Work of art in straw paper, hand-bound in only three hundred copies, Sun and snow is not only a collection of memories. As Alfieri says, "My intention was to make a book just to reconnect man with nature, to which my generation is deeply rooted." Instead, for the painter Robusti, who always lived in a city, illustrate the stories of Alfieri was a way to get closer to the peasant culture.
The presentation was dedicated to Gildo Mellini, «for many years appreciated and passionate correspondent from Noceto in la Gazzetta di Parma».