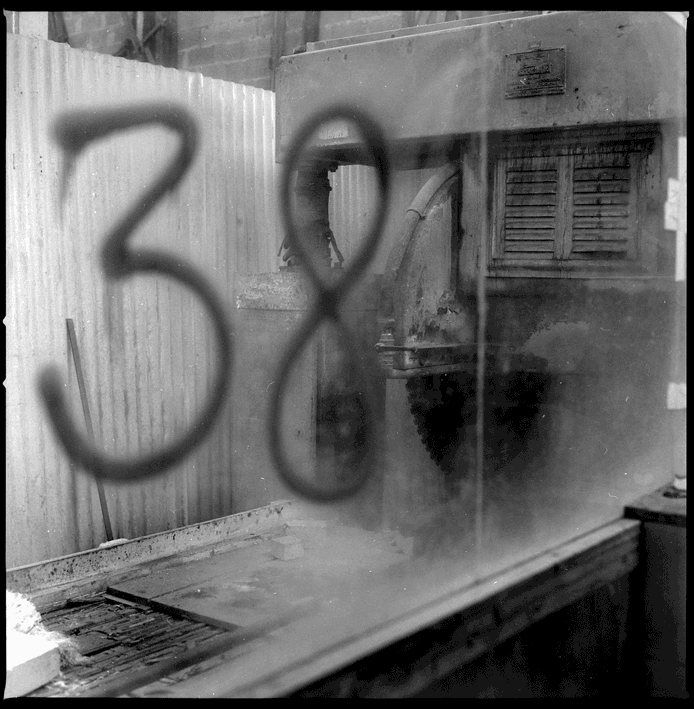 "Immense deserted spaces, emptied of all previous functions. Only the energy was still palpable: the energy of fire, exertion, and of machinery dominating man. A non-entity where every hidden corner and object I encountered along the way had its own story to tell – and more; that of a Machine, as the belly of the factory, and mankind, a community organized with the sole purpose of getting the most out of the Machine, but capable of leaving a much more indelible sign than that of the Machine itself. I decided than that I would have to lose myself in that place in order to retrace its many stories: I ended up staying there a full two months."
Brownfield isn't just an industrial book on archaeology and an end in itself. It's a project of images whose aim is the conservation of the historic and social memory of a workplace, and of the humanity that operated within it. A historic memory that all too often tends to be neglected nowadays because it is deemed non-essential to a community's development: in reality, we can't make progress if we don't know where we come from.
For this work, Fermoeditore has chosen materials that transmit potent visual and tactile emotions; with a clear reference to the factory, the cover is a lead foil that appears cold and hard, in contrast to its suppleness. Some copies are presented in a Plexiglas container that is held together by bolts: once more, a reference to the glassworks.
The author. Born in Ravenna in 1972, Stefano Brianti moved to Parma in 1975. He began taking photographs unwittingly at the age of 8, while on a school outing in Venice; by 14 he was already photographing in earnest, borrowing his father's reflex camera whenever he could and developing his technique on his own thanks to an encyclopedia on the art of photography purchased at a newsstand. In 1995, he started working at a commercial and industrial photography studio in Parma. Following a variety of experiences, by 2001 he was collaborating with several advertising agencies and working as a photographer fulltime. His current photographic commitments are in the commercial and industrial fields, as well as in advertising.
The photographs are accompanied by critical texts by Marco Adorni and William Gambetta, both researchers at the Centro Studi Movimenti in Parma. Paolo Barbaro, who holds an Arts degree in History of Photography from the University of Parma (1977), is also curator of the Photography Department at the Research Center and Communications Archive at the same university.
Brownfield will be presented at the Frankfurt book fair on Friday October 12th at 3:00 pm, at the Fermoeditore stand, Hall 4.1 Stand M534.
Info: info@fermoeditore.it