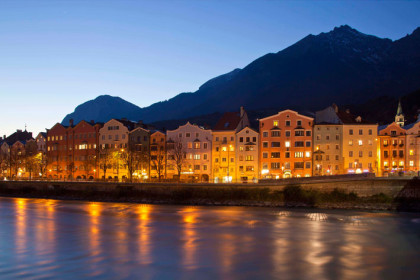 Countless travelers – pilgrims, merchants, diplomats and artists – along the ages have chosen the city of Innsbruck as a destination or as a place to stop on the way to and from Germany, a jewel surrounded by majestic mountains; but tourism in the modern sense was born in the nineteenth century, attracted by the pleasant summer weather.
Although of limited size, Innsbruck offers various monuments to visit including the castle of Ambras and the royal gardens, the Imperial Palace, the Church of the Court with twenty-eight massive bronze statues watching over the tomb of the emperor. To the ancient is flanked modern with craftsmanship: in the central Via Maria Teresa, pedestrian, it is opened without architectural conflict the entrance of the iperlinear mall (and the town hall), designed by David Chipperfield, topped by a terrace with panoramic views of the city​​; also the Olympic springboard Bergiselstadium creation by Zaha Hadid, and the futuristic stations of the lifts find their space there.
Satisfied the eye, the other senses are reasons to rejoice: for example with the six hundred kinds of beer offered by the many and the many local breweries that produce their own craft beers, or with many shows, for sports, between town and surroundings you'll be spoiled for choice: hiking, biking or horseback riding, golf, climbing, paragliding, rafting, useful to the traveler the free app downloaded from the website www.innsbruck.info for Apple and Android, generous with information and links.
To enjoy bucolic moments you can move on the next plateau of Mieming and Tirol Mitte, the sunniest and broadest flat surface of Tyrol, a sort of oasis between the peaks. Here you can visit in attractive cycling tours, or choose to stay, so-called 'holiday villages' articulated on the ancient salt route: they are small or very small towns whose development is arrested when the high roads have become others, losing in actuality but buying in authenticity.
Do not miss the Abbey of Stams, about nine kilometers from Mieming: Cistercian monastery closely linked to the history of North and South Tyrol, was built in 1273 and partly destroyed by fire in 1593. Expanded and lavishly restored after the disaster, is now a baroque pearl Tyrolean and houses, in addition to the rooms dedicated to the spirit, a restaurant and a conference center, offering profane pleasures as the production of fine liqueurs and spirits, jams, bread and homemade cakes.