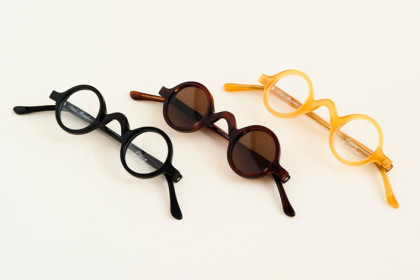 It happens that during a Fuorisalone event I run into a shop where are exposed very special pair of glasses models, too good to be "standard brand"… I got in and I met Guido (Sofia the next time) and I got out with a pair of glasses with a square lens and a round one! I must have been born wearing sunglasses, I have them on from morning until night, to the point that my neighbor told me one day that if I had them removed I would not have needed turning on the light in the stairwell because it was only dark. But lets tell the story of these brothers that not to abandon their father's dream have entered headlong in it… from an early age!
It was the '50s when it all began with Angelo Marchesi…
Yes, that's where begins dad's dream, the young Angelo, who specializes in an optical laboratory at a historic optical in Brera. Angelo loves his job, he is very young, and he learns day after day a craft that even today, after 60 years, thrills him. Slowly, in addition to lab work, Angelo, driven by creativity and a "lucky" hand begins for fun to draw eyeglasses frames. In '59 the big jump, he started on his own and begins a journey into the world of eyewear, a journey of research, insight and passion.
With the entry of Guido and Sophia, in the 70's, comes the design… until today!
A dream that has passed on to us when we were small children who already have "breathed" the cellulose acetate, and that after the school of optics we have turned this passion into a job.
What was it like to continue your father's footsteps?
Young and artists by family, it was natural to continue the work of our father with the same passion. For more than 30 years our craft has become a constant search for new materials, design and style, which has made our shop a place of stylistic experimentation, trendy, a point of reference for generations of glasses lovers. The world in which we move has led us also to know craftsmen and work with them, combining the art of the "masters of eyeglasses" that bring every day their professional in the workshop, a breath of topical and good taste.
At this point you just have to go to Milan, if you are not already there, at number 11 in Via Solferino and linger first of all before the windows of the Laboratorio Ottico Marchesi to enjoy the design around the lens, and then get in and make the guys crazy trying all the models that will attract you… say that Cinzia sent you.