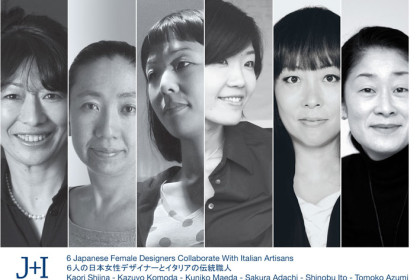 Milan, for me, is the most beautiful city in the world, but there is one week during the year in which it becomes like that for everyone. It's the week of "iSaloni" where it changes clothes wearing the most shining it possesses.
Design fills the street, installations everywhere, and every year a new pole of design adds to the already rich calendar of events FuoriSalone.
2013 sees the number zero of "Sarpi Bridge Oriental Design Week". The goal is to create a link between Eastern and Western design. I am accompanied on the tour between an installation and the other by the architect Riccardo Barbarossa, one of the organizers with his studio 2HB.
SARPI, 10 – Fuorisalone Site – Objects of eastern students/designers are selected and made by Italian craftsmen to be proposed in the Oriental Design Week and promoted on the market. Entering the 10, stands for visibility Natural Gas Chair by Shen Hong, a young designer in Shangai that recovers bodies of antique chairs to revive them, assembling them with gym-ball half-inflated with gas and then tying them with harmony, making them look like clouds on which we could lay. Sitting on these chairs seem to float in the air.
My interlocutor recommends me to go beyond a black curtain that leads to an installation, Opium for Oriental Kitchen Sounds, edited by the sound designer Enrico Ascoli: the meeting with three Asian restaurants in the city, mixing essences of tea and spices, was able to compose an olfactory-soundscape inspired to images that have always accompanied it, offering visitors a path of mists and aromas of other countries. The fragrances, wrapped in stills, are expelled into rings of smoke from the rhythmic pulse of the speakers that contain them, each with its own symphony smell. Opium has won the category for Sound Design in Milan Design Award.
SARPI, 52 – Insecticida – project where the insect is diversity, insecticida invites people to approach the concept in a positive way. Among the other installations, in this location we meet huge insects seen in fascinating aspects: the complicated and perfect aesthetics, the ability of transformation, adaptation and evolution.
SARPI, 6 – J+I – Six Japanese designer women living in Europe, and great Italian artisans together to realize refined prototypes and to tell the story of companies and processing cycles to get to the final object.
I would say a great start to the edition number zero!