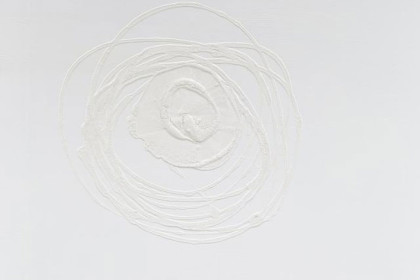 "When someone says, I can do it too, it means that he knows redo, otherwise he would have done before."
This sentence of the brilliant Bruno Munari welcomes the site guests of Cinzia Munari, bookseller and painter. As we read in the short biography, Cinzia was born in Lodi, and after a first artistic period spent in Milan moved to Parma where she remained in operation until the end of 1996 and then decided to work only for her collectors to resume production in 2005. The base of operations of the artist is Noceto: advertising graphics and internal designer, Cinzia is also involved in sports marketing and owns the library "A testa in su " in the center of the village.
Munari, an important surname… are you a relative of the great Bruno?"
«I am not a relative of Bruno, but it is probably an "artstic" surname… I love the words that I quote in the site because I happened to be close to some of my work at exhibitions and hear people saying that they would be able to do the same, so what better phrase than that of Munari? And like him I love to work with children (see the workshop "Matisse for a day" done with the library), it is certain he was a genius, just read some of his books.»
When did you start painting?
«I started very young, but I alternated periods of production to downtime, because living in Milan with a circle of friends, artists, from fashion to music and journalism, it was hard to stand still on a field. But I ended up always with a brush in my hand and then my "destiny" would certainly be linked to the "canvas". A professor of design (Sportelli) once gave me 15 as a vote, I was a Christ on the cross with oil pastels…I already used black, purple, dark yellow… and he told me he could not use a lower rating because it would have been a further insult to a man already crucified!»
Who does inspire you in your paintings? What are your favorite artists?
«I am inspired by anyone, I just jot down color. Favorite artists Warhol, Basquiat and Haring.»
What would you like to paint? What sensations do you feel?
«Painting for me is to discharge tensions, feelings, something that I can't say (and I am very lucky because they can express something that others see is positive) it's a feeling… I don't know… like stomach cramps. I no longer even use brushes, I put on latex gloves and thrust my hands in the jars of color and I feel this thick liquid that pushes me to put it on plywood boards and move, but it eventually decides to go…»
Have you exhibitions in progress or coming to tell us?
«Now I am stuck but I participated in two exhibitions in London and Rome concluded recently. They would like me to do a solo but I have little new material, also one of the last that I did it took me a month of work only for the preparation of the stands in the location: alas, I am a perfectionist.»