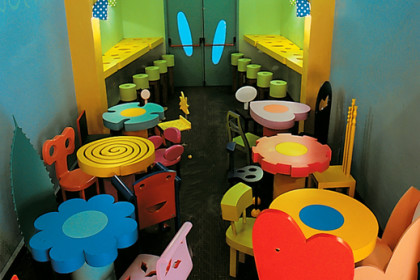 All of us have read Mickey Mouse even once. I had also earned medals as a young explorer but I cannot remember in which competition or collection points, I still have the diplomas that they sent me at home, but…
But… I've never eaten a meal sitting at a table in the shape of cheese with holes, and consider that there are children who are lucky enough to do it because an "eccentric" Lord, whose name is Giuseppe Di Somma and work as a designer, made it long ago…
So cute the cheesy Disney table
Who looks at my work is carried in the "realm of the plausible impossible", as Walt Disney wrote and Betty Boop Bar restaurant is a fun tribute to the world of comics. A dream as a big film production, with tables in the shape of giant colorful flowers and tasty slices of Swiss cheese. My comic language is filtered through the culture of design. The forms are simplified, the signs are mega and the comic becomes part of the furniture. The use of color is important. Strong, bold and contrasting colors, unsettling, involving colors, in combinations that create happiness and pleasure, attracting the viewer and inviting him to plunge into the world of fantasy. My projects often have a distorted view from wide-angle lens, placed in a phantasmagoric scene of action and feeling, shapes and colors, joyful and playful, an exciting experience. It is the world of childhood, the fantastic, it is the desire to return as children. I always find a way to infuse irony in  my work, to have fun and entertain.
And the wall lamps? "Unusual", yours
The boxes of the collection Switch.on-switch.off are on the border between language of art and design. They are "households signs" presences that play with light and color mixing dreams, memories, and mysticism. Going from the iconography of contemporary ironic winks you get to the recovery of "memory objects" and "worship".
In your opinion the future is Visual?
Today, Visual is a complex discipline and offers space as an area of multi-sensory communication using a range of tools ranging from the manufacture of physical scenarios for the construction of virtual realities.
Work in progress?
The personal of my "self". Giuseppe thousand faces, a little Diabolik and a bit of Ethan Hunt in Mission Impossible, becoming DisommiK.
Giuseppe Di Somma, architect, teaches Visual Merchandising and Visual Communication at Polimoda in Florence.
His website: www.giuseppedisomma.it